Rebranding a city steeped in history
A coastal city brimming with culture and technology gets a new brand and website to help usher it into a bright future
The City of New Bedford made its mark in the 17th century as the "City that lit the world," and stands today as the #1 fishing port in America. Empowered by immigrants, New Bedford is proud of the diversity that continues to help them "light the way" into the 21st Century.
A city with such deep roots, New Bedford needed a brand that lauded its pride in its diverse strengths. Together with Mayor John Mitchell, his team and other keys members of the community, we built an identity that captured a colorful palette of people, history, and technology.
The City Seal's inscription "Lucem Diffundo" (meaning "I diffuse light") was the inspiration for New Bedford's new tagline: Lighting the way. This concept is carried visually across the city's brand identity, and serves as a reminder that the New Bedford community has been lighting the way from its very inception centuries ago.
More than a logo — a manifestation of strength, vitality, and community
The New Bedford logo was thoughtfully developed over time in a six-year creative process that included focus groups and feedback from key stakeholders within the City. It depicts the historical Palmer's Island Lighthouse, which still stands today in New Bedford's inner harbor. The logo incorporates a vibrant, coastal color palette and classic type set in a dynamic way. This reinforces the idea of a city that is long-established but always looking toward the future.
A consistent style guide serves as the blueprint to building a celebrated corporate identity
Since the brand is the cornerstone of all communication, we developed a comprehensive style guide to ensure a consistent style and quality of how New Bedford's brand is portrayed. From logos, to typography, to color, the guide provides a set of tools designed to uniformly project the image, values and aspirations behind the brand.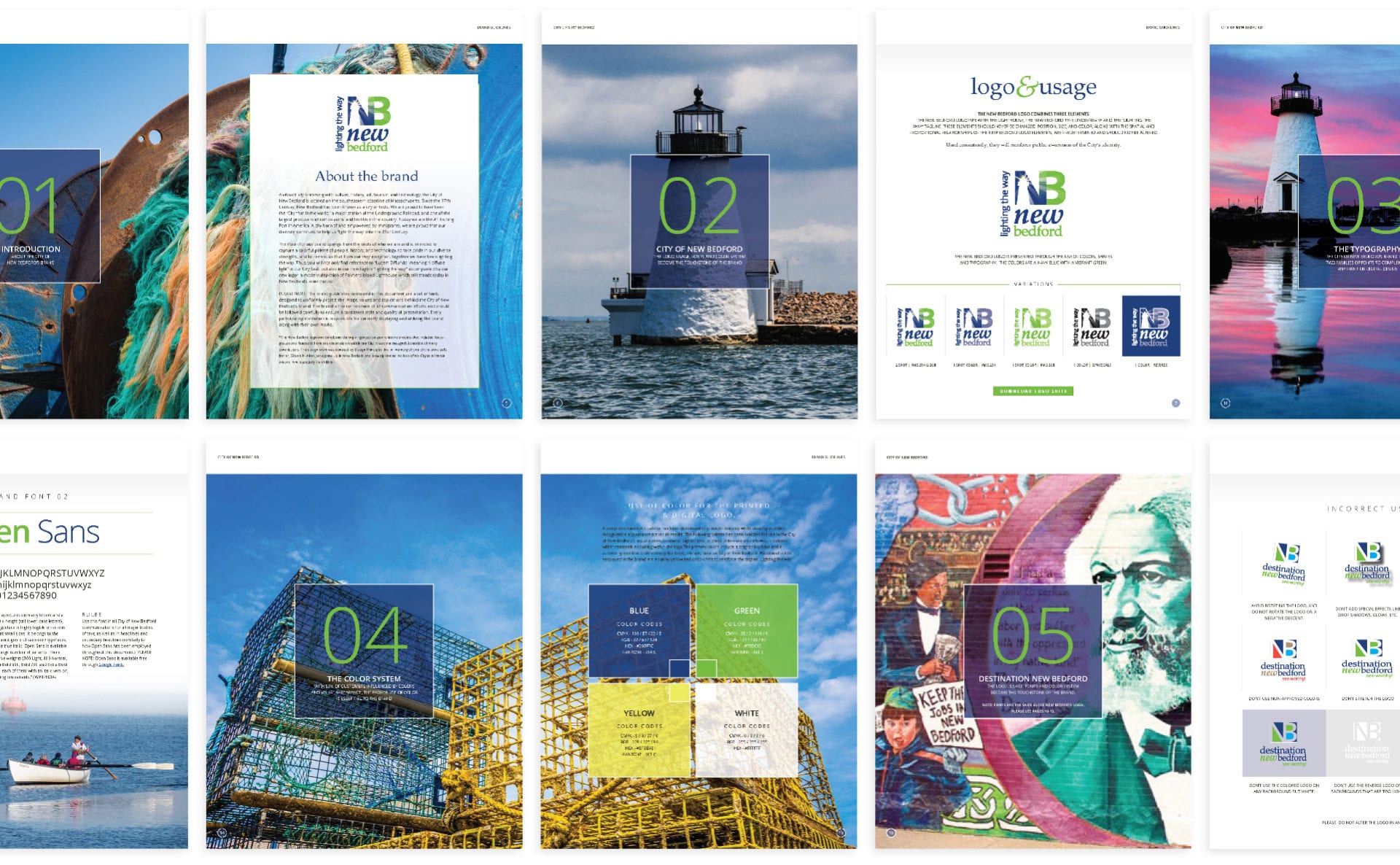 Family is everything!*
In addition to the city logo, we designed a flexible, scalable brand identity system to promote the City's tourism department as well as all major City initiatives. The NB monogram icon acts as the primary building block and unifier for the family of logos. Each logo has its own unique flair while at the same time reinforcing the New Bedford brand.
A virtual city center
Creating a multi-purpose hub for citizens and visitors
New Bedford's current site had served them well for several years, but it needed to reflect the revitalization that the city had been experiencing more recently. Our goal was to consolidate the site's existing 400+ pages and 2,200 PDFs into a cleaner, simpler presentation of useful information right up-front, guiding users to the resources they need.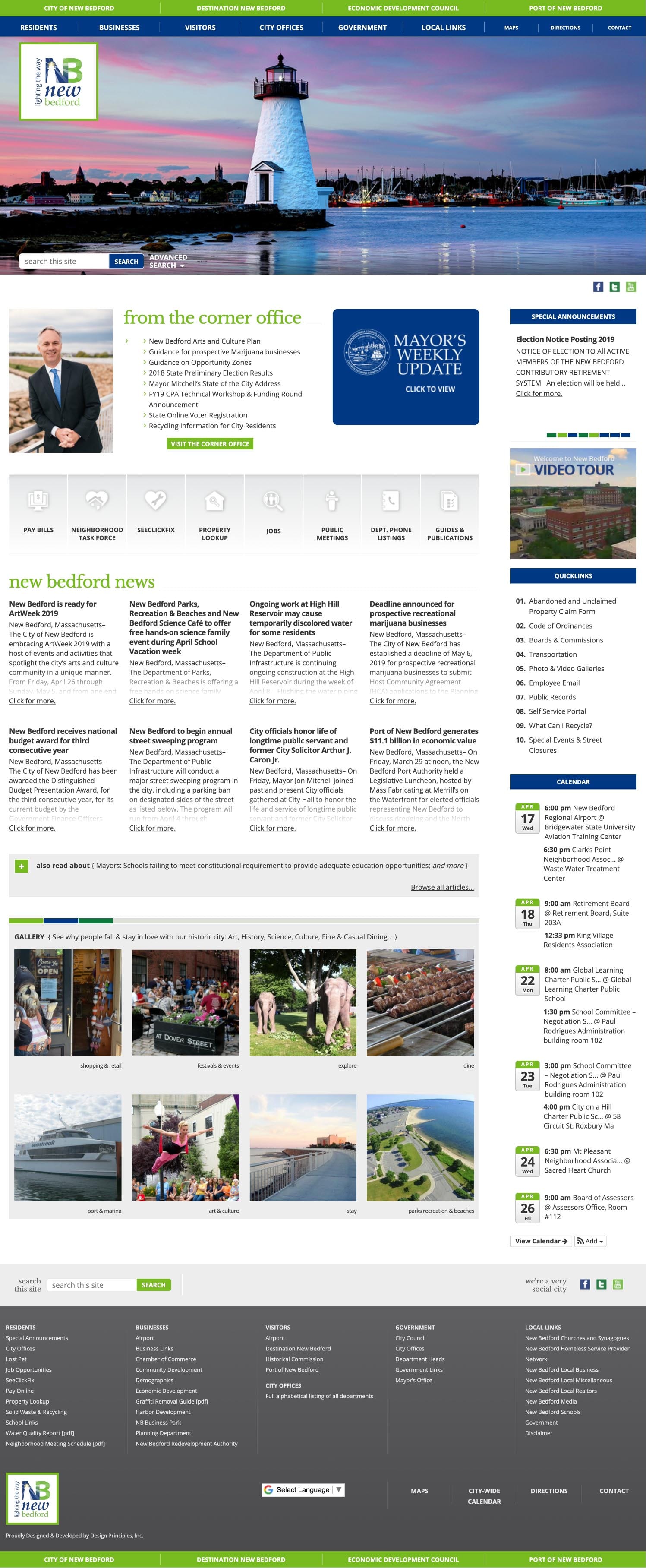 We took a ground-up approach, recalibrating the site's user experience to accommodate for growing audiences on smartphones and tablets.
We redesigned, reorganized and built the site in WordPress, adding multiple publishing tools and controls — including a form builder, video and social media integration, a community calendar, and a shared navigation system — for city workers to update the site independently. The final result was an award-winning, mobile-friendly, ADA-compliant digital hub for citizens and visitors alike.
Massachusetts Municipal Association's Municipal Website Award - 2015
A see-worthy website
Not just a city—a destination.
In addition to the primary city website, we developed DestinationNewBedford.org for the marketing and tourism arm of the City. Our goal was to create an online visit-worthy brochure and catalog of all of New Bedford's features.
We incorporated large colorful hero images of the city and its attractions in a modern design that paired with the new brand identity. We organized the content into actionable categories (Explore, Shop, Dine, Stay, etc.), and with some savvy programming, we made inputting a tourism-based business or activity a breeze.
Our home page copy is heart-felt, yet strategically SEO-packed weaving in keywords and SEO-rich phrases without the typical "roboticism" of copy directed at top search engine ranking. With a people-first SEO mentality the page immediately welcomes visitors and highlights the City's many well-loved features from shops to museums to our people, "passionate and hard-working...who've settled here from all over the world."
"Welcome to our home!"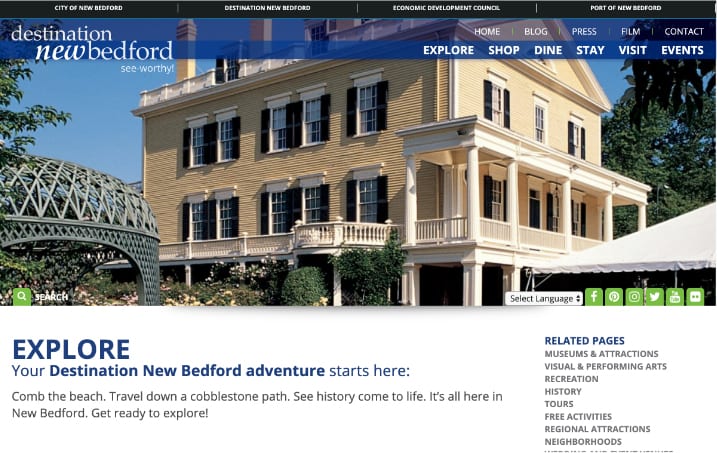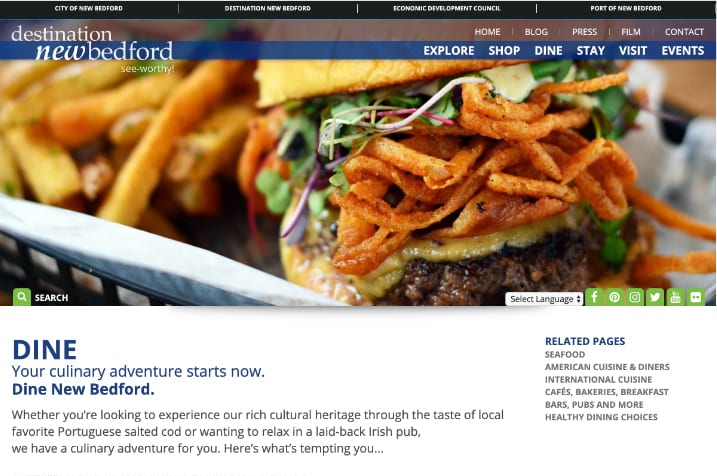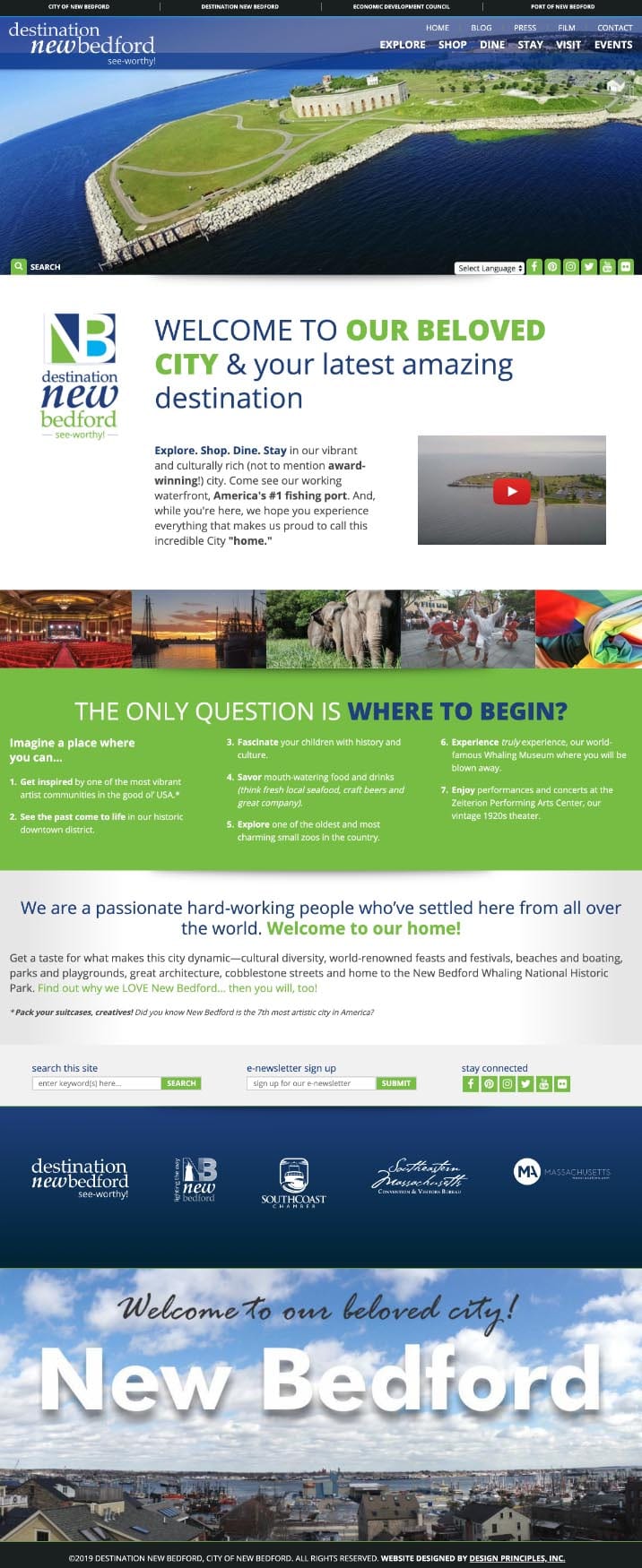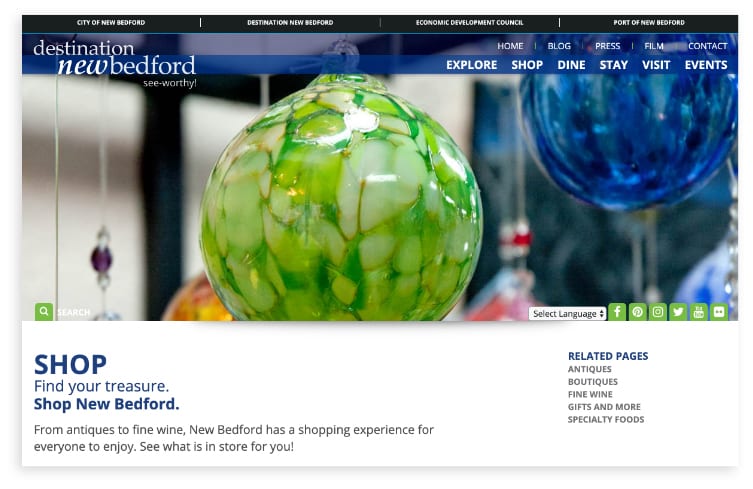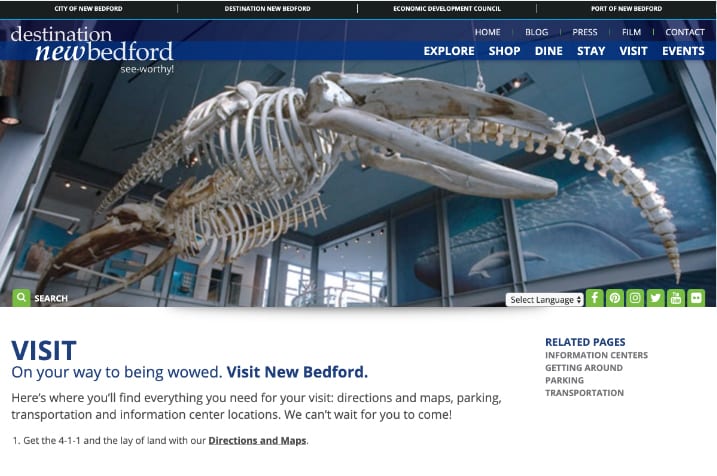 Brand recognition
proven over time
For almost a decade Design Principles has been proudly providing marketing, creative and technical support for the City of New Bedford, initially helping to position the Port of New Bedford as the #1 Fishing Port in America. Over the years you may have spotted our work on signage glowing atop the Elm Street Garage or off I-195, or even sculpted into shrubbery; you may have found our map artwork and brochure designs in the hands of tourists as they navigate our fabulous City; perhaps you are one of the millions that have surfed the City's award-winning website... no matter where you've spied our work, we hope that beneath the surface shines our passion for supporting our City, its people and the businesses and organizations that call it home.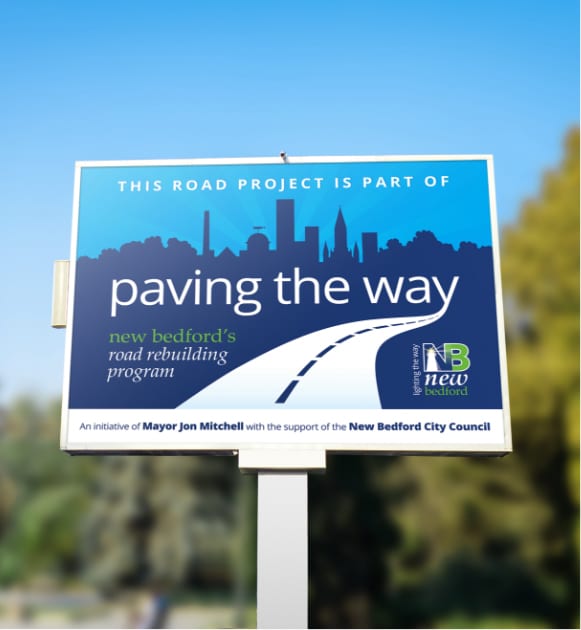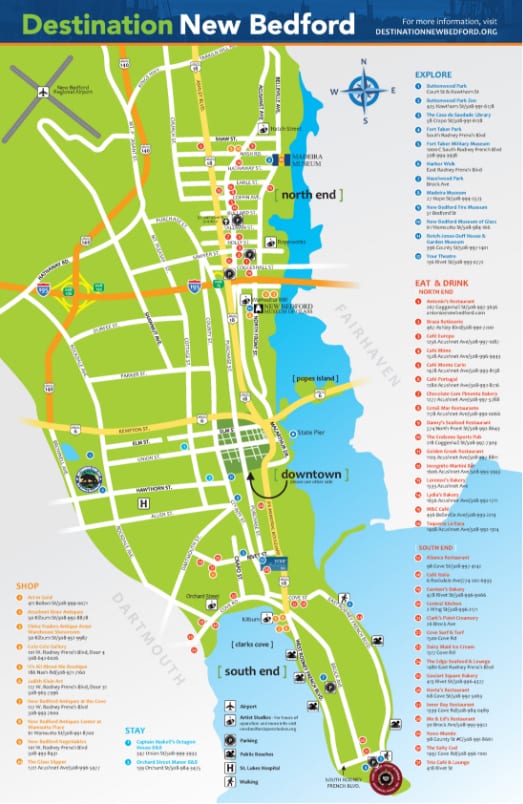 "I am so proud to have donated our work on the City of New Bedford's logo in my dad's memory. He grew up in a large family in New Bedford, and was always so passionate about the rich history of his city. It seemed very fitting to keep his memory alive in this way, especially seeing he fought Alzheimer's & Dementia for nearly 13 years. He'd be so proud in so many ways to know he inspired something that will help the City to continue to prosper well beyond his lifetime. <3"
Karen Alves, President & Creative Director | Design Principles, Inc.
2015 WINNER, MASSACHUSETTS MUNICIPAL ASSOCIATION
Best Website Serving a Community Over 50,000 People